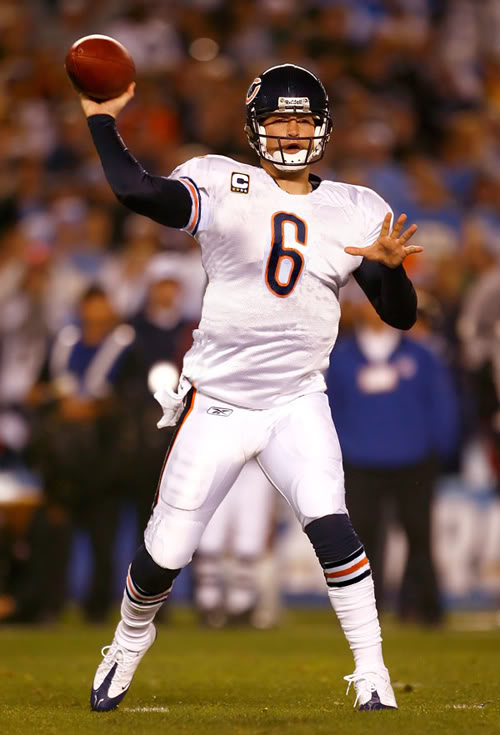 Jay Cutler has been ripped apart for not playing hurt in the second half of the NFC championship game. Current and former players basically told him to suck it up and play on the hurt knee, later determined a MCL sprain. The fraternity of players may have not been watching the same game I did because Cutler did try to play hurt. He came out in the 3rd quarter, tried to plant his foot and throw and ended up completely missing the target.
Maurice Jones-Drew was one of the first players to attack Cutler. MJD's argument was he played the entire season hurt, reportedly his left knee was "bone-on-bone". Well, you actually missed the last 2 games of the season as Charles Barkley pointed out today. The Jaguars were still in playoff position before Jones-Drew sat out and Jacksonville finished 8-8. So Maurice, you know exactly how physically and mentally hurt Cutler must of been that he couldn't help the Bears reach the Super Bowl. Jones-Drew had the benefit of receiving treatment on a week to week basis while Cutler had to be treated in about 30 minutes. I would put big money on the fact that Jones-Drew's treatment included some sort of pain medication, most notably a cortisone shot.
(As I am writing this, MJD is retweeting all the hate tweets he is receiving. Yes, some of the tweets are wrong but looks like a call for attention)
Too bad for Cutler, he cannot receive a cortisone shot because he is a Type 1 Diabetic. A cortisone shot would of elevated his blood sugar levels. If his blood sugar level was too high he could of experienced tiredness, dry mouth or blurry vision - all attributes you don't want your quarterback to have. Though, otherwise healthy, Cutler risks his health more than other players do. Cutler studies NFL defenses while having to worrying every morning and night about his blood sugar level. He risks overshooting his insulin and causing oxygen flow to his brain to decline. Cutler's deameanor or lack of enthusiam may need to be altered but never question the guy's toughness. It's immature for another player to tell Jay Cutler to "man up" when they haven't walked a day in his shoes.
Side note: The attacks by the fraternity of players on Cutler displays a disorganized players' union at the same time they are supposed to be working on a new labor deal with the owners. Enjoy the Pro Bowl as much as the Super Bowl because you may not see football for a while. Hello UFL (http://www.ufl-football.com/) and fantasy college football!